"I know what it's like to be overweight, and it wasn't until I tried the Herbalife products that I knew that I'd found something special. A weight loss program that was easy to use, made from 100% natural ingredients, and best of all, a diet that worked".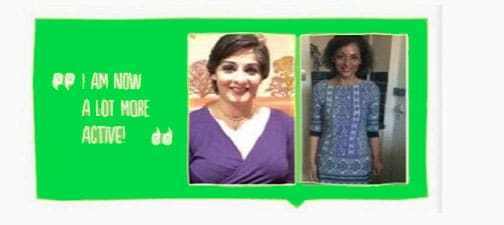 Here's how I achieved my success –
"Throughout my Herbalife journey I have had lots of help. This ranged from advise on protein, the shakes, healthy options as well as emotional support. I achieved my goal of getting back down to a size 8 months ago, so I continued to work on lowering my visceral and body fat. I am now a lot more active. I recently went to Victorious the music festival in Portsmouth. I would never of dreamt of going previously, or I would have gone for a couple of hours, and then gone home. It's great to have my energy back; where previously if anyone ever asked how I felt my first response would always be that I'm tired."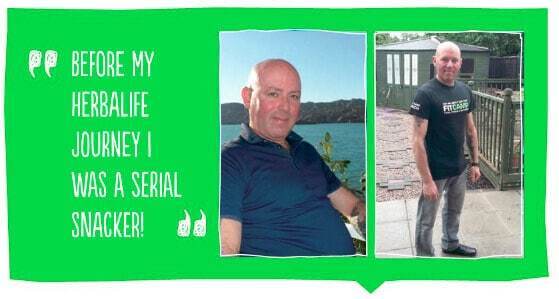 "Before Herbalife I was a serial snacker, and it was beginning to spiral out of control. After returning from holiday me and my wife decided to embark on healthy active lifestyle and approached a Herbalife member.
Our Herbalife Member was able to provide advise on healthy snacks and how to use Herbalife products alongside balanced nutritious meals. After persisting with my new healthy habits, I started to feel better and began to come out of my shell.
I couldn't believe how much my figure had improved, and I have personally gained more confidence. In addition to new Herbalife friends, I am now maintaining my weight and looking to begin a new challenge."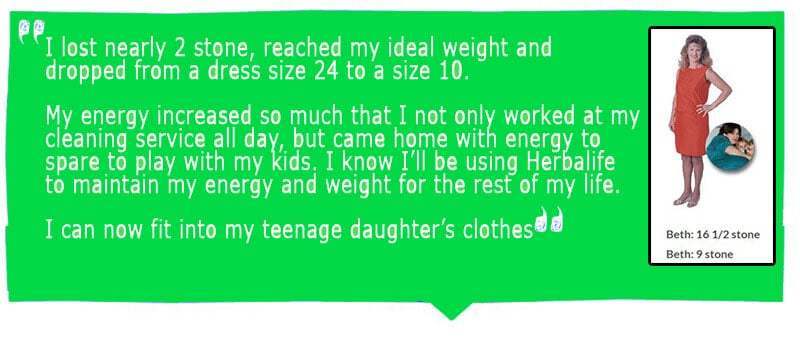 "After four pregnancies, Beth's weight reached an all-time high. "I had smoked for 20 years and when I gave it up, the weight just piled on," recalls Beth. "I didn't want to be fat, but I didn't want to risk using dangerous prescription diet drugs either."
A call for help
"I found my Herbalife supplier in the yellow pages. I'll never forget calling her crying while I was eating chocolate chip cookies and drinking milk. She got me on the Herbalife Weight-Management Program and within the first day I began to feel different. My hunger was gone, it was amazing-like instant will power!"
Record Breaking Results!
"Jeanette kept trying program after program to lose weight, but disliked the prepackaged foods and the high costs. "I used to sleep 11 hours a night, and I felt like I wasn't accomplishing anything in the hour and a half between the time I got off work and the time I went to bed," she recalls.
All in the family
It was her sister's success with Herbalife that led Jeanette to give weight loss one more try. Immediately after starting the Herbalife Weight-Management Program, Jeanette's energy levels started soaring. "I lost 3 stone and four dress sizes without feeling hungry or restricted!" she exclaims proudly.
A new lease on life"
Record-breaking results!".

An escalating weight issue
"At the age of 16 my weight problem had already begun," says Rene. "Each year I gained more and more pounds. A combination of stress and poor eating habits gradually caused my health to deteriorate."
A health nightmare
"In April of 1997 my condition had become so serious that I was hospitalised," he says. "My medical report said that I was suffering from 'morbid obesity.' I was barely mobile and had difficulty breathing with the least physical exertion. My circulation was poor, and I had terrible varicose veins because of my excess weight."
The turn around
"In May 2000, my weight reached an all-time high of 32 stone. That was when I made the decision that would change my life. On the 29th of May I began the Herbalife program. After the first week I experienced an extraordinary increase in energy and I continued to lose weight consistently".
Renewed self-esteem

"When I found Herbalife I was just out of high school. I had weighed in at 130kg and although I knew it was really really bad,
I was skeptical. I had tried over 20 different diets where I felt bad and gained more weight after it finished. I started on my Healthy Breakfast program with an extra shake and lost over 10kg in my first month and a half.
After the third month i started using an ultimate program and since have been able to lose 40kg!! My visceral fat went from 17 to now 4, body fat from as high as 40% to now 20%. I also have found myself with so much energy! Also I don't have the heart burn that no 18 year old should have! The best part is that it wasn't and isn't a diet, it was just me living my Healthy lifestyle".

"I still pinch myself everyday that I am changing sooo much, on the right I was 166.95kg, and on the left I am 128.7kg, my clothes have dropped drastically, losing 10inches from my waist.
These jeans are a size 38 ? it still blows my mind! The last time I wore 38, I would have been in my early teens!
Did I know getting on that plane almost 2 years ago from LA to Melbourne was going to change everything in my life 18 months later?
No! But I now know that life is definitely about timing! I finally committed to my nutrition program on the 12th December last year, and have had massive changes in that time! I made a goal with myself to unveil Luke2.0 in January 2019.
Want to know something? He's already here! Excited for what is next, excited to be a part of something huge, that EVERYONE needs, and excited to be able to now coach and mentor others to do the same as what I am doing! Here's to the next 6 months of change".

"I've lost over 35kg so far. But it's not just the weight it's the extra energy and health improvement . But it didn't just happen. It's taken over a year and there are times when I've stumbled, but with a strong belief and huge motivation these are my results".

"My name is Taualagi Leilua. This is what I achieved in 5 months when I started my journey 2 years ago."